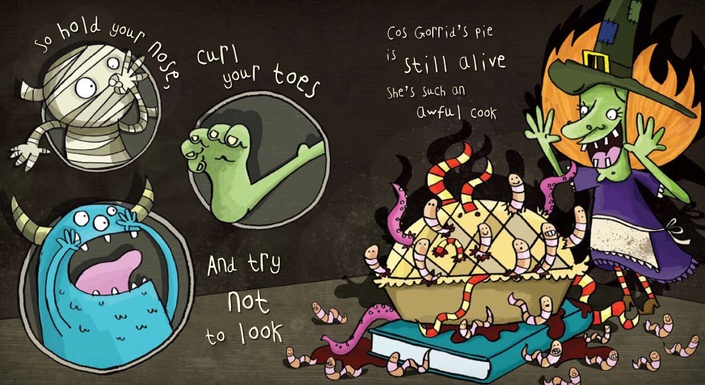 Gorrid the Horrid Teaching Pack (EY/KS1/KS2) Topic: Witches, Halloween, Food & Drink, Imaginative Story Telling
This funny song is about a witch who tries to cook a feast, great for a spooky KS1 or 2 topic
My all-time most requested song after "Creepy Castle"! This song is a hit with children from pre-school up to year 4 – they love the gloopiness and funny signs and actions. It is a simple repetitive song (easy to learn – hard to forget!) with three verses that can be learned along with the signs in 15 minutes.
Great fun for a spooky /halloween/autumn theme, works brilliantly in singing assembly or classroom. Use the new split-screen whiteboard film to teach the song – the teaching notes will suggest how to divide the group so that you have 4 groups playing a mix of percussion and singing and signing – you will be amazed!
No musical ability needed to teach this song – just plug and play, the children will do the rest!
Song Selection
Gorrid the Horrid
Available in days
days after you join
Frequently Asked Questions
Can I buy this Teaching Pack?
Yes you can it's £9.99 at www.gokidmusic.com/shop
Is this part of any memberships?
Yes! It's part of the rather marvellous Schools Membership and the Preschool Membership
How do I contact you?