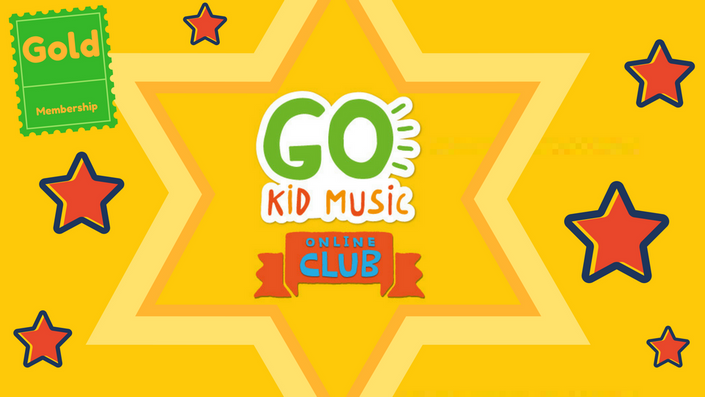 How about a really exciting upgrade for Go Kid Club Members! With our Gold Membership your child will get gifts through the post!
You will be sent a Go Kid Music Certificate and a cool Go Kid Music T-shirt straight away to celebrate your new status as a VIP Gold Member!
Throughout the year your child will get a birthday card, a sticker and badge set, an 'Excellent Songs for Children' CD, a kazoo with a krazy kazoo quiz to play with family and friends and at the end of your first year a Go Kid Music Mahalo Ukulele!
Plus
We will invite your family to Gold Membership only exclusive events at Go Kid Music HQ (near Brighton) with Al for fun music sessions.
You also get 10% off everything in our online shop for your entire membership!
So, if you are a Go Kid Music Club Member, upgrade now and become a VIP!
If you aren't a member of the Club yet, join HERE!
Frequently Asked Questions
Do I have to be a Go Kid Music Club Member to join this Gold Membership?
Yes you do! This has been designed to support your Go Kid Club Membership with gifts through the posts and everything mentioned above! It does not contain any of the song videos that you will still access through your GO Kid Club Membership.
How do I choose specific gifts (such as t-shirt size or CD choice?)
When you join you will have access to a questionnaire where we ask you everything we will need to send you your great gifts!
When will I get my gifts?
The sending of gifts is dispersed throughout the year. As soon as you join you will be sent a Certificate and T-shirt, then just keep an eye on the post! Your birthday card will arrive in time for your child's birthday and you will be sent a gift at least every 3 months..