Go Kid Music Club for Organisations
FREE For Organisations: Hospitals, Residential, Care Homes, Respite & any Centre where children need music, learning & entertainment
Watch Welcome Video
Welcome to our Go Kid Music Club for Organisations!
***THIS MEMBERSHIP IS FREE FOR ORGANISATIONS! SEE DETAILS OF HOW TO JOIN***
As someone who has had long stays in hospital myself, I know first-hand how important it is to keep occupied, positive and be able to take your mind of the monotony of daily life in bed or away from home.
For children in this situation, fantastic organisations like yours exist to support both the children and their family and we'd love to add something really special to your offer to the families you work with.
Music boosts wellbeing
Distraction, entertainment, a little education thrown in; engaging in and being immersed in something creative and positive does wonders for mental health, emotional wellbeing and has a knock-on effect to feeling better. Seeing a child smiling and enjoying something even in stressful times can also help their friends and family around them.

A Gift from Go Kid Music
This is a special gift from us to the children who are part of your organisation. Perhaps you are a hospital where children stay, a residential setting or simply a centre where children and families spend time. We would like to offer you our membership so that your staff can share our music, videos, songs and resources with the children and their families who spend time with you.
You'll have unlimited access to all our songs, videos and downloads for as long as you are a member. We will sign you up for an annual subscription, that you can continue to renew each year.
Stream on any device
You can stream our music videos on your own screens - smartphones, tablets or computers at any time. You can add a link to your own website. Any number of users can log in under your membership and choose what they would like to watch. This smart and creative screen time can then be taken off-screen as they learn the songs, sing along with the audio, or just listen.

Links with school learning
I write songs for primary school age children (4-11 yrs), though they are suitable for all. Many are educational, and if children are staying in your care and missing school, this may be a handy link to their topic. I have created the videos to include signing (based on British Sign Language/Makaton), so the songs are accessible to children with learning disabilities (SEND), hearing impairments, English as an Additional Language (EAL) and speech and language difficulties.
Turn those tricky, downtime "bored" moments into fun creative learning, giving your staff some time back. No musical background is needed to deliver amazing music lessons, include songs in schooling or just enjoy singing, playing along or watching.
Even ideal for a musical bedtime story!
We're Not-For-Profit
Go Kid Music is a not-for-profit social enterprise and our aim is to share great songs, music and creative learning opportunities with those who really need it.
Please email me at [email protected] with the details of your organisation and we will get you set-up and ready to share fantastic songs and videos with the families you work with.
What's Included
Song 1 - Down Under!
Available in days
days after you join
Song 2 - Around the World!
Available in days
days after you join
Song 3 - Shake it up!
Available in days
days after you join
What do parents & carers say about our songs..?
"I just wanted to drop you a line to say thank you so much for today's session!

I just want to say how it was YOU that made those smiles happen today. A smile from a child with complex needs can be very hard to come by, trust me we do this group every week and I have never seen as many smiles as that.

Thank you Thank you Thank you! I feel very much in debt to you and your wonderful talent. We all had such a lot of fun!"
Frequently Asked Questions
Does my organisation qualify for this?
What if I am unhappy with the membership?
We would never want you to be unhappy! We are always here to answer questions and sort out any issues without delay!
Are the song videos educational?
Many of the songs are written to support school topics and your child will be learning about the topics as they learn the songs. Some of the songs are plain silly though, or nothing to do with school. All our songs are age-appropriate for children who attend primary school. Some subjects may be more complex than others but the songs are all great!
Are our children the right age?
Our songs are ideal for children aged 4-10 years old. If your child has additional needs they may well enjoy our songs if they are older and if your child is advanced, they may well enjoy the songs if they are a little younger. You can try our club and if you don't feel it's the right fit you can end your membership - it's free, so why not give it a try!
Are there hidden costs?
No, we really are offering this for free. We are a not-for-proft social enterprise, however and it would help us to continue reaching children and families in need if your organisation could share our information with your members. We could work together to create special offers via your organisation that would help us all - discounts for families, a little business for us, and great content for you! Sharing is caring! :-)
Your Tutor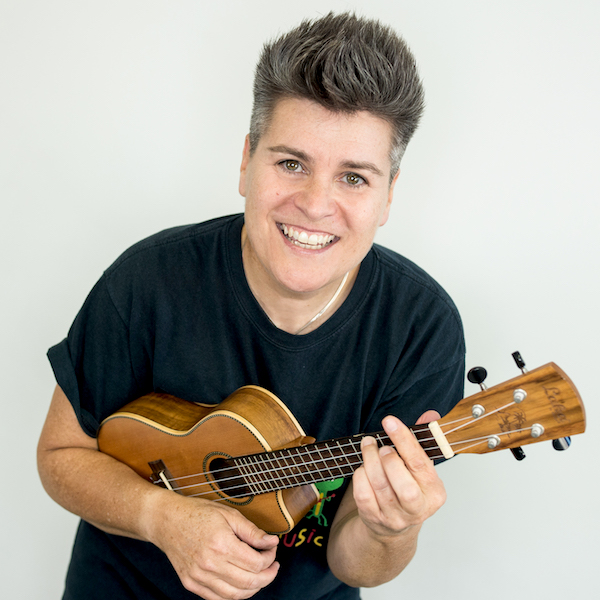 "Hello, I'm Al. I started Go Kid Music in 2015 because I believe we need more great age-appropriate songs for children and their families. I used to be a Play Coordinator for the local authority, lecture at Brighton University and have trained in play, creative learning and child development. I studied music at Brighton Institute of Modern Music in 2003 and gained a distinction in Songwriting & Modern Composition. I have toured extensively and produce music and events for families. I teach singing and ukulele in schools where I try out all the songs in the club so you know they will go down a storm with your kids!"