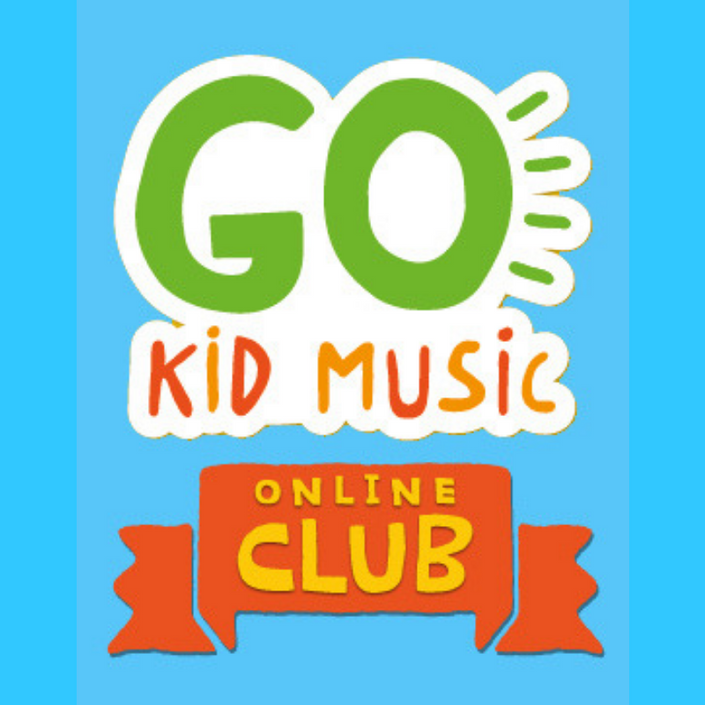 Go Kid Music Club (for Families)
Open up a world of songs and videos that support what your child is learning at school. Improve literacy, communication and spark your children's imagination.
Watch Welcome Video
Join Now!
Welcome to the Go Kid Music Club for kids who love to sing!

Hi, I'm Al from Go Kid Music. I'm a children's singer-songwriter and experienced music practitioner.
I have made this online club for parents/carers like you who want to nurture your kid's creativity and help them develop their learning. To do that you need really great activities for your kids to get stuck into that are creative, fun and engaging with an educational twist.
The Go Kid Music Club features a huge collection of my original songs for children. I've written them over the last 15 years while singing in schools, recording albums and touring the country with my live band.
Many of the songs are educational and all the songs are great fun and aimed at Primary school aged children and their siblings. They are made for children to sing and will help them develop their literacy and communication skills, build their confidence and creativity while also learning key facts and vocabulary that they will come across in their Primary curriculum topics.
The songs are music videos and I will teach your children how to sing and sign them using Makaton and with the words as subtitles. You can download all the songs & words to keep and stream the videos on any device any time.
Your membership also includes free family tickets to selected live shows, special discounts on my albums and other courses and members-only treats!
We've inspired and entertained well over 20,000 families with our children's songs and videos, you're in safe hands!
So, here's what to:
Choose your subscription plan (monthly/6 months/annual)

Sign up

Sit back and enjoy a well-deserved cuppa while the kids get stuck in! (They might even do you a show...)
So, watch the video clips below to see a selection of of my song videos and get signed up right away!
See you inside,
Al :-)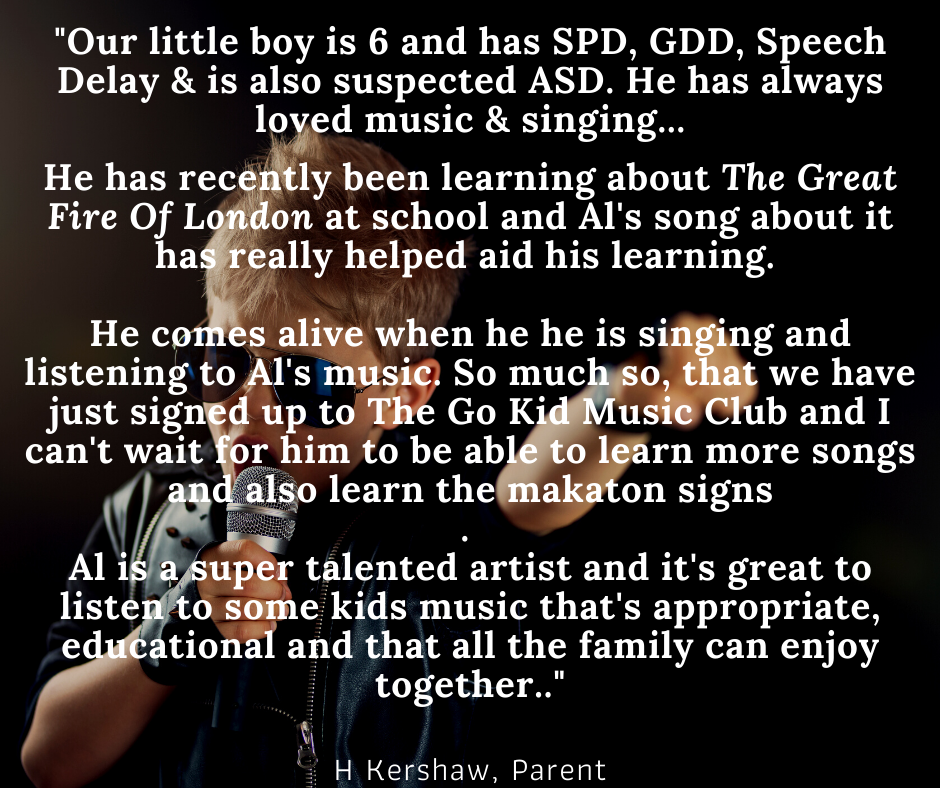 What do parents say about our songs..?
"I just love the life in your music. It's so bubbly and uplifting compared to a lot of children's music."
L. Anderson, Navada, USA
"The diversity it has provided for the boys from the happy interactive music whilst playing to soothing them in the car it is worth its weight in gold to me and its not the same old nursery rhymes you are hearing again and again and something different to what we hear at playgroups."
MumDadPlus4, parenting blog, UK
Your Tutor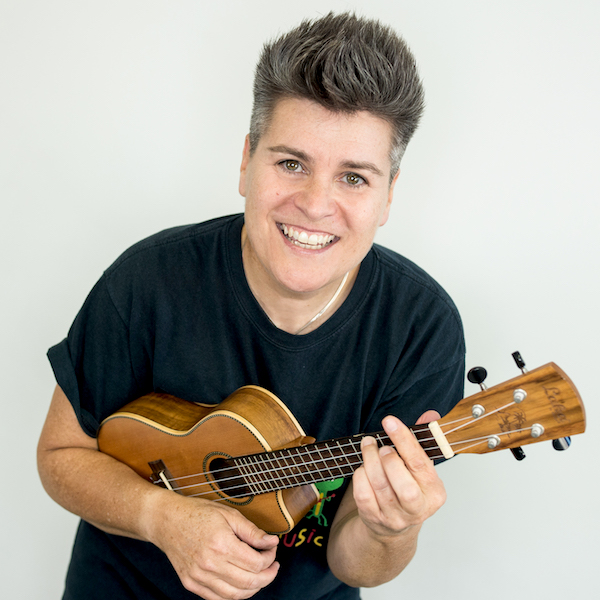 "Hello, I'm Al. I started Go Kid Music in 2015 because I believe we need more great age-appropriate songs for children and their families. I used to be a Play Coordinator for the local authority, lecture at Brighton University and have trained in play, creative learning and child development. I studied music at Brighton Institute of Modern Music in 2003 and gained a distinction in Songwriting & Modern Composition. I have toured extensively and produce music and events for families. I teach singing and ukulele in schools where I try out all the songs in the club so you know they will go down a storm with your kids!"
Frequently Asked Questions
How often will my child have a new song to learn?
You will have unlimited access to all our songs & videos right away! You can access the club any time from any device to stream the videos.
My school subscribes to your Schools Membership. Do I get a discount?
Yes you do! Normally this club costs £30(+vat) for 6 months unlimited access, but if your school subscribes to the School's Membership you can use your unique school code to get a whopping 34% discount! Just ask your school for their special coupon code (it should also be on your flyer or in your school newsletter) and enter it at checkout where is says "coupon code".
What if I am unhappy with my membership?
We would never want you to be unhappy! If you are unsatisfied with your purchase, contact us in the first 30 days and we will give you a full refund.
Are the song videos educational?
Many of the songs are written to support school topics and your child will be learning about the topics as they learn the songs. Some of the songs are plain silly though, or nothing to do with school. All our songs are age-appropriate for children who attend primary school. Some subjects may be more complex than others but the songs are all great!
Is my child the right age?
Our songs are ideal for children aged from around 4-10 years old. If your child has additional needs they may well enjoy our songs if they are older and if your child is advanced, they may well enjoy the songs if they are a little younger. You can try our club and if you don't feel it's the right fit we can refund your money within 30 days - so give it a try!